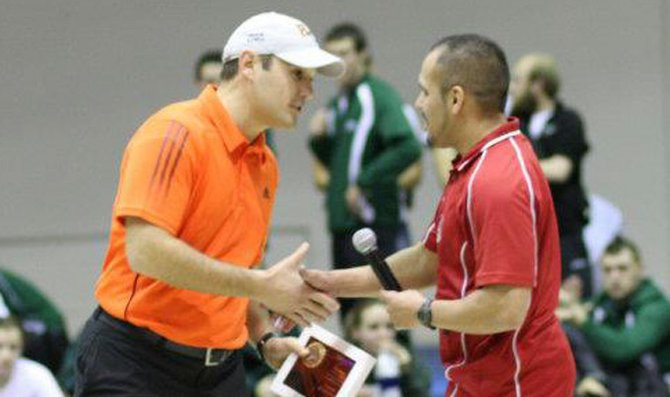 Thursday, February 23, 2012
The Baker University men's and women's indoor track teams brought home their respective titles when they traveled to Graceland University Friday and Saturday to compete in the HAAC Championship meet.
"We have been talking all year that our main goal was to win conference," head coach Zach Kindler said. "So that is what we were hoping for this past weekend throughout all the events."
On the first day of the meet, Baker finished strong on both sides with multiple first-place finishes.
Junior Joe Naughton won the men's weight throw with a throw of 15.97 meters to score 10 of the team's 19 points in the event.
Baker Orange staff member Katie Thurbon won the women's pole vault with a vault of 3.13 meters.
To round off the day, Baker teams finished first place in the 4x800-meter relay in the women's and men's races.
"I felt the most confident about the (4x800-meter relay) because for the men's side, we won by over 40 meters," junior Kellen Kristoffersen said.
With a strong first day for both of the teams, Baker hoped the second day would lead to its ultimate goal of winning the titles.
On Saturday in the men's mile, juniors Taylor Nall and Aaron Caldwell took first and second place, respectively. Freshman Tyler Sloan and sophomore Hannah Moore took first and second, respectively, in the women's 400-meter dash. Senior JL Anderson took first in the 60-meter hurdles.
"Winning this weekend, for the team, sets up motivation to become conference champs for outdoor, but for me individually, it gives me the confidence I need for indoor nationals and to have a top performance," Anderson said.
The teams combined for 21 first-place finishes.
"It feels great to win conference," Kristoffersen said. "It was awesome to see how both of the teams came together and put in 100 percent effort to win the titles, even with some of the athletes being injured or hurt."
Adding to the conference titles, Kindler won Heart of America Athletic Conference Coach of the Year for the men's and women's side, while junior Jeremy Gathright proved a pulled hamstring earlier in the season was not going to stop him from winning the men's Most Valuable Athlete of the meet. Gathright won both the men's triple jump and long jump.
"Winning these titles will give us the motivation and drive to do it for the outdoor season," Kindler said. "It will help us build to become stronger and develop even more as a team."
The men's team completed the non-traditional triple crown with the victory. The Wildcats also won the HAAC men's outdoor meet in the spring and the conference cross country meet in the fall.