Thursday, January 26, 2012
The bowling team's first tournament of the second semester was last weekend in South Bend, Ind., for the Blue and Gold Classic. You were one of four Baker University bowlers to place in the top 100 out of 287 competitors. How pleased were you with the team's performance?
I was really pleased with the team's performance. We bowled so well and I was really proud of the girls. When the shot broke down and we had to keep moving left, we all stuck with it and we did our best. We ended up placing 14th, so we were very pleased.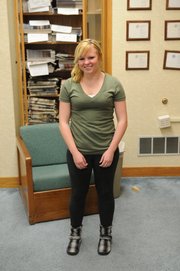 The team also recorded its first two top 10 finishes in school history over the break in Las Vegas. How much confidence did those two tournaments give the team?
Those two tournaments basically gave us the confidence we have what it takes to make it to sectionals, and maybe even to the nationals level. So it gave us a lot of confidence.
This is the bowling team's third year of existence and your second season on the team. How much of a factor did Baker creating a bowling program influence your decision to come to BU?
It was a little bit of a factor. I came here mainly for nursing school, but having a bowling team definitely made it my top choice by far.
There are four more tournaments to round out the rest of the season. What are your expectations for yourself and the team for the remainder of the season
I expect all of us, as the team, as a whole to attend sectionals and even go to the national level. We all have the confidence that we can do it and even for some of us in singles, we think that we can do really well in sectionals as well.