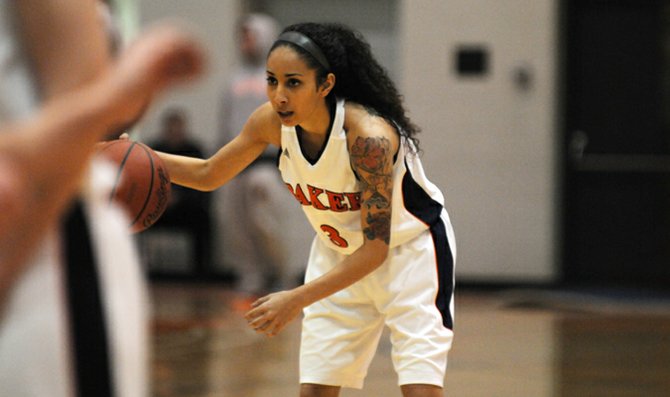 Thursday, January 26, 2012
Despite owning a 34-29 halftime lead against Central Methodist University, the Baker University women's basketball team was unable to snap its losing streak as the Wildcats lost 73-60.
"In the first half, we took care of the basketball," head coach Ben Lister said. "We only had six turnovers and that allowed us to be a lot more efficient and eliminated possessions for them. In the second half, we had 14 turnovers, which gave them the opportunity to score more points."
Senior Gloria Atanmo led the way for BU with 18 points and seven rebounds. Freshman Shelbi Petty joined Atanmo in double figures with 14 points, which was just two points off her career high.
The Wildcats were forced to play without their starting point guard Alisha Fanshier, who leads the team both in points and assists.
"Obviously Alisha is a pretty big part of our team, but it gave a lot of other girls the opportunity to step up and play a bigger role," sophomore Ashley Werner said.
The Eagles had a balanced offensive attack with four players scoring in double figures.
After a season-best three-game winning streak, Baker has lost four straight games and is 4-16 overall and 2-7 in the Heart of America Athletic Conference as of Wednesday.
"I think we just need to get our confidence back and compete in practice," senior Rae Lynne Stewart said. "(Practice) has definitely picked up this week and at the end of last week. I think we just all need to start believing in ourselves that we can play an entire game well and consistently."
The 'Cats were on the road again Thursday against Avila University, but results were not available at presstime.
Baker will return home to host Missouri Valley College at 2 p.m. Saturday in Collins Center. The previous matchup between the Vikings and the Wildcats went down to the wire with Missouri Valley coming up on top and winning 72-71.
"We lost at their place by one and really felt like we let one slip away there," Lister said. "I thought we played really well offensively. I think if we can do a better job of locating their primary scorers and take care of the basketball, we feel confident that we should be able to compete and win that basketball game."
While the results in the standings are not where Lister and his players hoped they would be at this point of the season, they still believe the team can be a major factor in the second half of conference play.
"Our kids have not changed their mindset," Lister said. "They expect to win every time they take the floor, so we're going to go in there and play a fast-paced game like we did at (Missouri Valley), and hopefully make enough plays to come out on top."