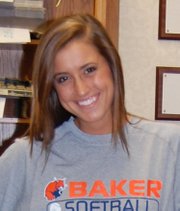 Audio clip
1 on 1: with Tara Chumley
Just as softball season began a few weeks ago for you, you also signed the dotted line to play volleyball next year for head coach Kathy Allen. How excited are you to play volleyball at Baker?
I'm incredibly excited to be a part of the volleyball team next year. They had a great season this year winning conference and having a great record. That's something I'm just really excited to be a part of. The team seems like it has great chemistry and they seem like they have a lot of fun and they've been successful in the past, so I'm really excited to be a part of that.
With head softball coach Matt Windle also being the assistant volleyball coach, how much easier do you think that will make the transition for you?
I think that will help a lot because I kind of know what Windle's coaching style is like and how he handles different situations, so I think having somebody there that I'm comfortable with will make the transition a lot easier.
The softball team has also jumped out to a fast start this season with a split against Ottawa University and winning two out of three games in the Cowtown Classic in Fort Worth, Texas. What are your expectations for the remainder of the season?
I think I, along with everybody else, have really high expectations for our team this year. We've obviously had a pretty good start to the season. We've hung with some tough teams and we've proved we can play with the best. The only game we dropped in Texas was to the No. 3 team in the country. I think we are going to prove a lot of people wrong this season and that will be really exciting for us.
The team is in the middle of a three-week layoff without playing a game. How anxious are you and the rest of the team to start playing games instead of practicing?
We are very, very anxious. Practicing every day becomes a little repetitive and (we) kind of run out of things to work on. Getting in some game-like situations will be helpful for us to know what to work on in practice.