In his favorite class, Human Ecology, Roger Boyd, Baker University professor and alumnus, taught students about how humans affect the Earth and how they can minimize the destructive effects humanity has on nature.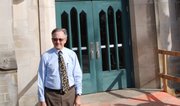 Related Story
Boyd's commitment to teaching students about the importance of conservation and practicing these principles himself in the field earned him the Kansas Department of Wildlife's top award, Conservationist of the Year, at the Conservation Achievement Program Awards Banquet Saturday in Salina.
Ken Brunson, Conservation Achievement Program chairman, said the Conservation Achievement Awards recognize citizens who have contributed greatly to fish and wildlife conservation efforts in Kansas.
A written statement from the Kansas Wildlife Federation said, "Dr. Boyd's career achievements have been remarkable and, more importantly, a positive factor for the quality of human and wildlife in the State of Kansas and beyond."
As Baker's director of natural areas and professor emeritus of biology, Boyd has been instrumental in many large campus conservation projects since he started teaching at the university in 1976.
Since becoming the area's director in 1986, he has restored acres of crop field and pasture to the Baker Wetlands south of Lawrence. For three years, Boyd has been restoring 150 acres of the wetlands to compensate for 56 acres that will be lost when the South Lawrence Trafficway cuts through the wetlands in 2013. Work on the new Baker Wetlands Visitor Center is also supposed to begin in the fall of 2013.
The recycling bins on campus are the product of Boyd's work as well.
While Boyd's efforts as a conservationist are evident on campus, his work as a professor has also had a wide impact. Boyd said graduates from Baker's Wildlife Ecology program serve across the nation in various environmental protection roles.
His family fostered his interest in ecology at an early age. The new addition to Mulvane, the Ivan L. Boyd Center for Collaborative Science Education, is named in honor of his father, who was a biology professor and his son's predecessor as the director of the Baker Wetlands.
While Boyd has dedicated his life to conservation efforts, he taught his students that protecting wildlife is a responsibility that can be as simple as recycling or spending time volunteering.
"My belief is that our earth is over-populated and our resource consumption is unsustainable," Boyd said. "Wildlife are the losers because they are continually losing their habitat (and) homes … My favorite saying is 'You are either part of the solution or part of the problem.'"