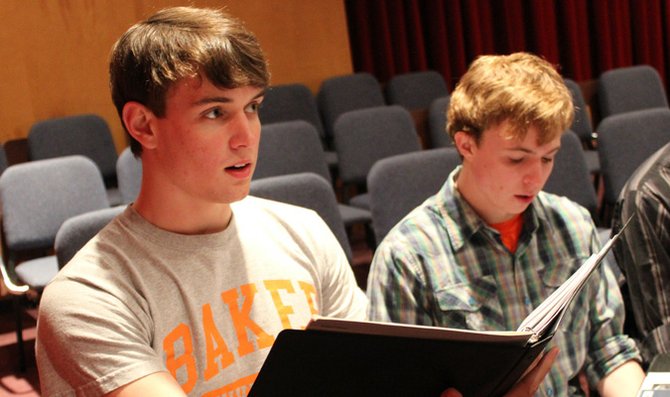 Audio clip
Brandon Haefke discusses honor choir
Eight Baker University choir members took their show on the road Wednesday, all the way to Dallas. This group of honor choir students, made up of concert and chamber choir members, is attending this year's American Choral Directors Association conference, along with 22 other colleges in the Southwest Division. They arrived Wednesday and are scheduled to stay through Saturday.
The honor choir was hand-picked by Director of Choral Activities Matthew Potterton. When an email went out to all collegiate choir directors announcing the conference, Potterton went straight to his choir class and asked for volunteers, from which he chose eight. The students chosen were freshmen Brandon Haefke and Lauren Dunkak, juniors Kelli Doolittle, Paul Eltschinger, Krystina Townsend and Bill Wicks, and seniors Scott Ireland and Margo Rodewald.
"I know that these eight students could do it really well," Potterton said. "I think they're going to be fine … no they are going to be great, actually."
These students had to perfect their music for the conference on their own time, with Potterton only hosting 20-minute rehearsals on Tuesday nights. Three of the songs chosen for the ACDA lineup are ones the students have already learned for concert choir.
They are also expected to be comfortable and confident with their music because they could be singled out during one of the many rehearsals they will have with the entire Southwestern ACDA honor choir. Haefke said this should not be a problem.
"We are a pretty good group of folks who can hold our own against the elite of the college world," Haefke said.
After their weekend of rehearsals and guest speakers, the entire group will perform five songs with an orchestra on the stage of the Dallas Majestic Theater.
"There's just something so awesome about being with 70 people, singing the same song and filling the room with music," Rodewald said. "It almost gives you goose bumps; it's so powerful."
As a senior music major, Rodewald has been interested in singing for as long as she can remember. She is a part of the praise band during chapel services and believes this Dallas experience will be rewarding for the group and for herself.
"It's a nice last hurrah," Rodewald said. "I won't have the opportunity to sing in an honor choir like this again."
Potterton attends this conference every year because he gets to "hear some of the greatest groups sing." He believes these students will represent Baker well and get inordinate experience out of the trip.
"They get to make music at a level that is greater than any college can achieve by itself," Potterton said. "They get to gain experience, wisdom and friendship while making some great music."