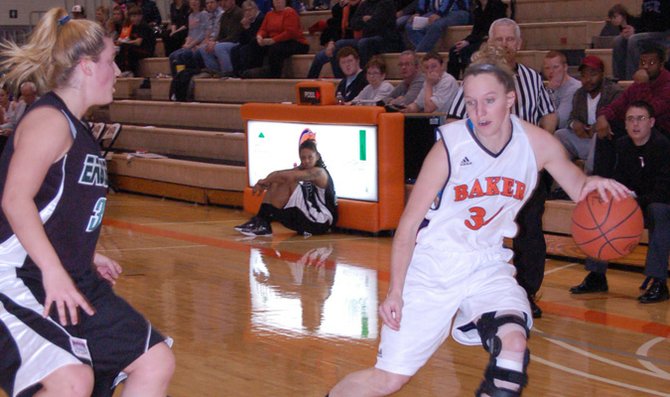 First year Baker women's basketball coach Ben Lister entered the 2011-2012 season with a roster primarily composed of freshmen and transfer players. Last season, Baker had a senior-laden squad, so the returners faced the challenge of adapting to Lister's system and the new players.
"I think the talent level is there," senior Brooke Soske said. "It was a new program and everything so everyone was just trying to work together and mesh. The talent was very widely spread throughout, from the point guard all the way down to our posts."
Despite a 6-24 overall record, the women's basketball team was competitive throughout the season, especially during conference play.
The Wildcats narrowly missed the conference tournament and played their opponents close in a majority of their games.
BU had five of its conference losses coming by only five points or less, not including an overtime defeat and a game it had won before having to forfeit.
"We really tried to not focus on the losses," senior Rae Lynne Stewart said. "For as many losses as we had, I think we did a great job of keeping our heads and always coming and playing competitive every game."
The Wildcats boasted the nation's top 3-point shooter in freshman Shelbi Petty, the conference's fourth best scorer with junior transfer Alisha Fanshier, as well as senior Gloria Atanmo, who nearly averaged a double-double on the season.
Two of the players also represented Baker on the all-Heart of America Athletic Conference teams with Atanmo being named to the third team and Petty earning a bid as an honorable mention.
"I think they just had to step up," Stewart said. "With everything that was so new, they had no choice. They took on a role and they became great leaders. They helped our team and we needed that."
With Saturday's game against Central Methodist University being Senior Day in Collins Center, the Baker community said goodbye to the four seniors on the squad.
From being part of a very experienced team last season where their roles were smaller, to being thrown into the fire with a new program, new coach and teammates, the senior players have had to adjust and learn to play in whatever circumstances they came across.

"I couldn't ask for better support and love from the Baker community," Atanmo said. "We struggled, we faced adversity and we had our moments, but our fans stuck with us throughout it all. It's unfortunate the way it all turned out, but I wouldn't play for another school."