Photo Gallery
Men's Basketball vs. Benedictine HAAC 1st Round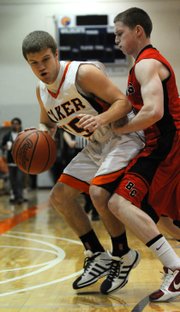 The Baker University men's basketball team won the first round of the HAAC tournament beating Benedictine College 55-41 at Collins Center.
After losing to Benedictine College Feb. 23 in overtime, the Baker University men's basketball team won when it mattered most against BC with a 55-41 victory in the quarterfinals of the HAAC Postseason Tournament.
"It feels good, especially you know, being that it was the first time that (Baker) had had a home playoff game in 10 years," junior Jordan Honore said. "It feels good to get that sour taste out of our mouth."
The game was another defensive battle with Benedictine leading 2-0 after nearly six minutes played in the contest, but BU scrapped with BC and went into the break with a 20-15 advantage.
"That is what our team tries to take pride in are those tough and ugly games," junior Kevin Lysaught said. "We're trying to be the toughest team in the league."
The Ravens came flying out of the gates after halftime, though, and took the lead 24-20 with a 9-0 run to force a Baker timeout.
"I was upset in the timeout because I thought we squandered some easy (opportunities on offense) and then we let them get some easy (opportunities on offense)," head coach Brett Ballard said.
BU then responded with five straight points with a basket from junior Baba Diallo and a traditional 3-point play from Honore.

The Ravens and Wildcats fought back and forth until BU went on an 11-0 run to take a 42-34 lead with five minutes left. Benedictine was unable to make a late comeback like it did six days earlier and the 'Cats advanced in the postseason tournament.
The win was the first home conference playoff win for the Wildcats in over a decade, but BU will have to go on the road to play in the semifinals against Evangel University.
"We wanted to face them because we've lost two against them," Lysaught said. "The scores weren't indicative of how we played, so we definitely want to go out there and show them that we're the better team."
The Wildcats lost both matchups to the Crusaders in the regular season, but Honore thinks defense will be a key factor again in trying to pull off the upset.
"We have the same expectations that we had against Benedictine ... to get a win," Honore said. "Play hard defense and the offense is going to come. Our defense sparks our offense. As long as we play defense, we'll be okay."
The 'Cats and Crusaders will square off at 7 p.m. Friday in Springfield, Mo.
"Evangel is a great program and they have had our number this year, but we're excited," Ballard said. "I think our guys will go down there and compete. We know it is going to be a challenge, but I think we'll go down there and play hard."