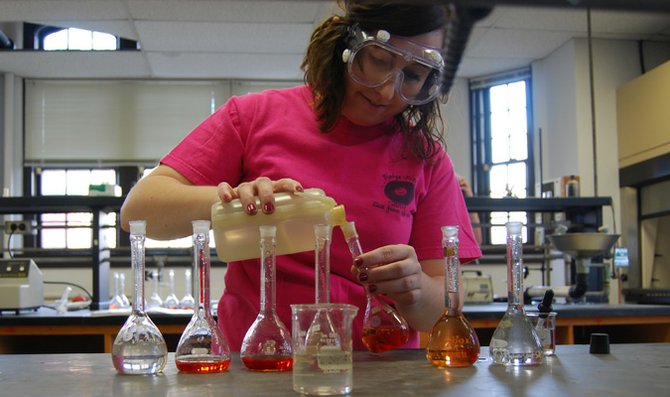 Science majors and professors must say goodbye to their Mulvane Science Hall home after spring break. Professors are moving into temporary offices in Case Hall while classes will be shifted to Case and Constant Halls.
Science labs had to be completed in the first half of the semester so Mulvane would be empty after spring break for construction purposes.
Professors either scheduled two lab sessions a week or added extra time.
"I think the plan is a reasonable one, and, with luck, we will be able to start next year on time in a reasonably, normal way," Gary Giachino, professor of chemistry, said.
Sophomore Megan Rosa, a chemistry major with a minor in biology, finished her organic chemistry lab during the first half of the spring semester. The only difference she saw was the length of her lab sessions.
"The workload was about the same as last semester, but the weighting was different," Rosa said. "A small mistake that would have just cost one point last semester ended up being three or four points."
Rosa's organic chemistry lab lasted four hours every Tuesday.
"I didn't feel as overwhelmed since I only had one lab and organic labs don't require a ton of outside work," Rosa said. "But some people with more than one lab seemed a lot more stressed than last semester."
Sophomore Ashley McBride, who is a biology major with a chemistry minor, is enrolled in two labs.
McBride's zoology lab meets four hours every Thursday and her general chemistry lab meets twice a week.
"Now that spring break is hitting and I won't have labs the rest of the semester, that's really nice," McBride said. "Leading up to this point, it's been really stressful and hectic. I'd rather have it all semester than cram it all in."
McBride had to neglect some of her other classes to cram for her science labs.
"It took a lot of coffee," McBride said. "I don't know what I'm going to do the rest of the semester because I feel like all I've had time to do is study (for my labs)."
Rosa said the change did not affect her overall understanding of the subject matter.
"We still get a pretty good idea of what to do, since most of the labs are making stuff," Rosa said. "You use a lot of similar techniques, so overall, I think we still got a really good lab experience."
The Mulvane renovations are seen as positive in the long run, and students and staff are willing to make sacrifices.
"Obviously it's inconvenient, but necessary," Giachino said, "but we'll survive."