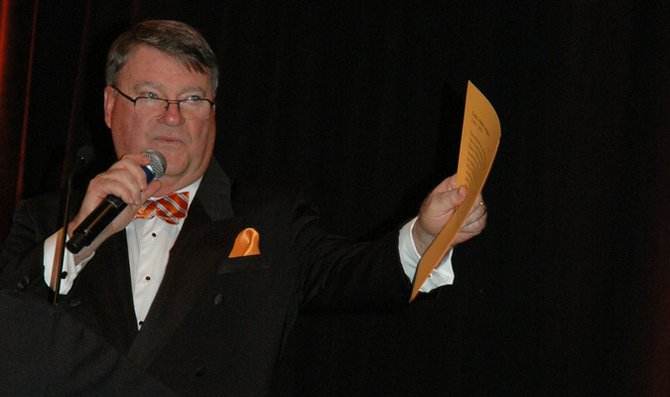 Baker University President Pat Long announced a $1.6 million donation to BU's largest fundraising effort in history, the Ivan L. Boyd Center for Collaborative Science Education, Saturday at the Fourth Annual Gala and Auction.
Baker University alumnus Ross Hartley and his wife Christine Hartley made the donation because of their firm belief in the transformation of Mulvane Science Hall.
"We think giving to the project is a great opportunity that will enhance student and career opportunities in math and sciences, which is the direction all leaders say we need to go in higher education," Christine said in a statement released by the university.
With the donation comes a name for the 9,000-square-foot addition to the building.
"To commemorate the generosity of Ross and Christine, that addition will be known as the Ross and Christine Hartley Hall," Long said.
The $1.6 million was not the only large donation announced.
Andrew and Peggy Cherng, Baker University alumni and founders of the Panda Restaurant Group, which consists of Panda Express, Panda Inn and Hibachi-San, were unable to attend this year's Gala; however, the couple issued a challenge grant to those attending the event. They said they would match all contributions made at the Gala dollar for dollar, up to $100,000.
Vice President of University Advancement Lyn Lakin said during the Fund-a-Scholar portion of the night almost $50,000 was raised, and with Cherng's match, over $200,000 was able to go to the annual scholarship fund.
"By your support tonight you've helped nearly 100 percent of our students at Baldwin City," Long told gala attendees.
Four hundred guests attended the gala, which is an increase from the 320 attendees in 2011.
Along with comical emcees and videos, Long used the Gala as a chance to brag on Baker.
"We have a lot of good things happening at Baker right now," Long said.
She announced the re-accreditation of the university, Baker's new liberal studies program, Quest, the progress on the Mulvane transformation and the success of the athletic department.
Long said some of the best years of her life have been during her time as president of the university.
"There's something truly remarkable about Baker," Long said. "There's truly something remarkable about the people who support Baker. There's truly something remarkable about the people who work at Baker, the trustees who lead Baker, but most of all, there's something remarkable about the students, who will go on and do incredible things."