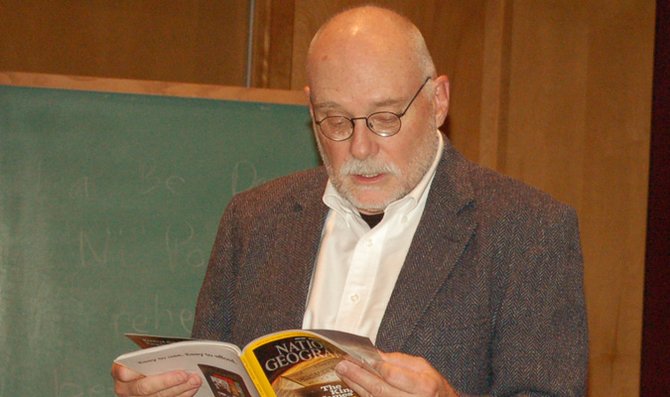 Remote Scottish chapels, sweeping trains of Anglican clergymen and ornate drawing rooms can easily depict a culture through a photograph.
Telling a story with a picture of a single book is a little more difficult, National Geographic photographer Jim Richardson said.
"My job is to make living, breathing pictures action," Richardson said. "And there's only so much you can do when you're taking a picture of a book. They do kind of sit there."

Richardson found a way to tell a story with his photographs of a first-edition King James Bible from Baker University's William A. Quayle Bible Collection. The photos were featured on the cover of December's National Geographic Magazine.
Tuesday in McKibbin Recital Hall, Richardson's anecdotes and images illustrated his year-long journey to photograph this Bible, interesting people and unique locations across the Western world for the story "The King James Bible: Making
a Masterpiece."

The article, by British author Adam Nicolson, celebrated the impact the Bible has had on the English language and world culture since the book was translated 400 years ago.
Richardson described how in one day he took over 150 pictures of the book, meticulously painting light onto its pages with a small flashlight with a filter he said was made of tissue.
"I can't tell you how enjoyable it was to be a fly on the wall while he was working in there," Director of Library Services Kay Bradt said.
After negotiating with Westminster officials and suspicious Rastafarians, Richardson said taking photographs at the Quayle Collection was "great fun" and "just a godsend."
"Baker University and York Minster were the saints in my book," Richardson said. "They were so welcoming."
A handful of the approximately 29,700 photographs Richardson took for the story will be on display in the Quayle Bible Collection until May 20. There are two pictures of Bibles from Baker, along with photographs of English cathedrals, Scottish chapels, southwestern cowboy ministers and Jamaican spiritualists.
The collection is open Saturday and Sunday afternoons from 1 to 4 p.m. Bradt said she hopes to have an open house to view the collection the week after spring break.
The display will give viewers the chance to see the photographs alongside many subjects discussed in the article, including classic literature impacted by the Bible and older versions of the text.
Gesturing at the Bible's title page, Richardson joked that one can, in fact, still gather a lot about a culture from a picture of a book.
"You'll notice 'James' is larger than 'God,'" Richardson said.