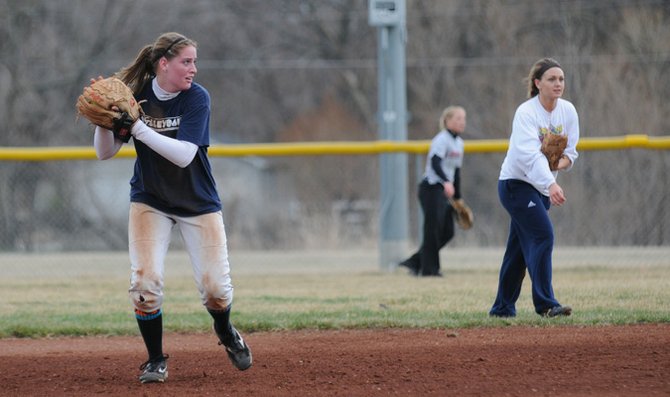 The Baker University softball team is on a four-game winning streak after sweeping William Penn College in its home opener Saturday at Cavaness Field.
The 'Cats played 10 games over spring break, bringing their record to 8-7 for the season.
They began with the CBC Meltdown March 9-10 in Conway, Ark. The Wildcats went 0-4 during the tournament; however, they held their own against No. 4 Central Baptist College, who beat them by one run.
"We played our hearts out and left everything on the field," sophomore Erin Greenwood said. "It was one of those games where you lost but you were so happy with how hard you tried."
Senior Brooke Allen, leadoff hitter for the 'Cats, broke her nose during the CBC Meltdown and Windle doesn't expect her to be cleared to play until next week. Despite the loss of the all-conference player, BU still has been competitive on the field.
Baker traveled to Winfield and Wichita for doubleheaders against Southwestern College and Friends University March 13 and 14, respectively.
Baker split games with Southwestern winning game one 7-0 and dropping game two 8-4.
"I think we got a little bit ahead of ourselves (after the 7-0 win)," sophomore Maggie Holmberg said. "You have to come ready to play for every game and not just think you'll be able to slide by every game."
BU made a comeback from its loss to Southwestern by sweeping Friends 2-1 and 10-2.
"Game two we came out with confidence and started hitting the ball all over the yard," head coach Matt Windle said. "(Senior) Allie Losey hit a monster home run. There were two fences in outfield and it almost cleared the second one."
Holmberg and Greenwood said the 'Cats were anxious to play their home opener against William Penn after having so many games on the road.
The Wildcats defeated WPC 3-0 and 3-2.
Windle said Greenwood has improved since her freshman season and had an amazing week of games. The sophomore pitcher hit a two-run home run against Friends University and had an RBI triple and was the winning pitcher in game two against William Penn.
Baker will play its conference opener against Missouri Valley College at 2 p.m. Saturday in Marshall, Mo.
"We've been playing ranked teams and we've kept those games really close so I think we're coming in really prepared," Holmberg said. "I think we're ready to go out and show our conference that we should be the number one team in the conference and we can win."