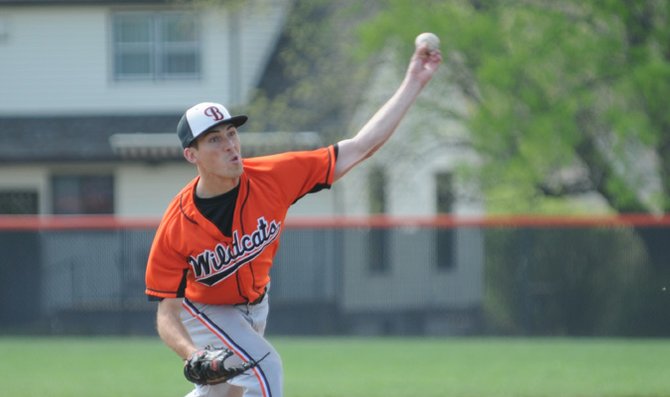 After the Baker University baseball team split six consecutive doubleheaders, the Wildcats took care of business in both games against Missouri Valley College Wednesday, winning game one 14-0 and game two 6-1.
"It felt really good because we had both our pitching and hitting put together," junior Chase Dengel said.
Senior Chris Cummins recorded his fourth straight complete game victory in game one and senior Nathan Wheelock only gave up one earned run in game two.
Cummins improved to 5-1 overall and lowered his earned run average to 1.93 and Wheelock is now 3-4 with an ERA of 1.90.
Senior Steven Stewart, juniors Bryan Kindle and Miles Sanderson and sophomores Josh Zach and Matt Fry had multi-RBI games in the combined 20-run attack in the doubleheader.
Wednesday's doubleheader was the first time the Wildcats had played at Sauder Field in their last few outings.
The 'Cats played host to Graceland University Saturday, but the doubleheader was at Lawrence Free State High School because Sauder Field had received too much rain last week.
In game one, BU trailed 2-0 after four innings, but scored five runs in the fifth inning and two more in the sixth to secure the victory.
Graceland bounced back in game two by scoring four runs in the first inning on its way to a 6-2 win.
Baker and Graceland took the field again Sunday in Lamoni for two non-conference matchups. BU's offense was sparked by Fry in game one on the way to a 9-7 victory. Fry went two for three with three runs batted in.
However, the Yellowjackets responded just like they did Saturday to take game two 6-2.
Baker remained on the road Tuesday for a doubleheader against Evangel University.
In game one against Evangel, the Wildcats took a 3-2 lead after three runs in the top of the fifth inning, but the Crusaders responded with six runs in the bottom half of the inning and plated four more in the sixth to go back on top. BU scored once in the sixth inning and put together a rally in the seventh inning, but went on to fall in game one 12-7.
The 'Cats seized control early on in game two and led going into the bottom of the seventh. Baker withstood the Crusaders comeback attempt and held on to win 8-7 after Evangel plated six runs in the seventh inning.
The Wildcats sit at 5-3 in the Heart of America Athletic Conference after Wednesday's games against MVC.
"I feel really good because, you know, we're just knocking at the door and our guys keep talking about getting in that conference tournament," head coach Phil Hannon said. "I've talked to all of the coaches throughout the conference, and it's pretty much even. So it's going to come down to playing really good, solid baseball."
Baker will hit the road again for doubleheaders against Benedictine College Saturday and Sunday in Atchison.
"Benedictine is a tough team, especially since we have to play all four (games) there," Wheelock said. "We don't get to play at our home field, so hopefully we can just go in there and compete and give ourselves a chance to win."