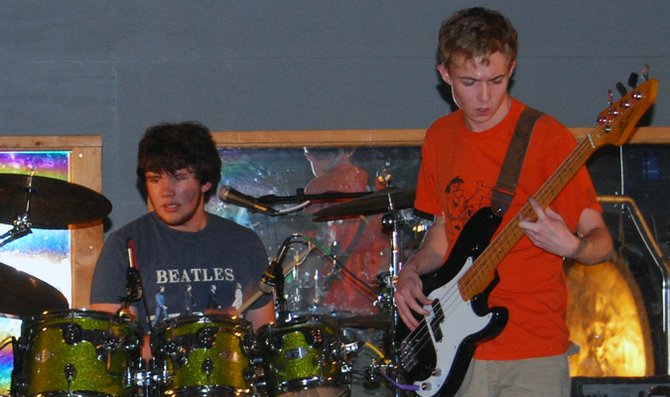 Students didn't let bad weather and a change in location affect a night of free music and a different entertainment option in Baldwin City.
The Baldwin City Breakdown: Round Two was a free concert put on by KNBU-FM The Edge, the Baker University student radio station, for students and the community to listen to various genres of music. The concert was originally scheduled to take place in Hartley Plaza, but was moved to Mabee Gym due to severe weather.
"All in all I was really happy, even the last minute change to Mabee Gym," KNBU-FM Adviser Joe Watson said. "That could have really messed us up, but it was just a seamless transition. It all worked out in the end."
The night started out with a performance by Dubulaye, a performer from Atchinson, who rapped his way through various songs. Prior to his performance many audience members were unsure of who he was.
"I was really surprised by his performance," KNBU-FM Station Manager Brad Barnes said. "He brought a different feeling to the stage by being an outside performer and being overall, a really good act."
There was a short intermission before freshman Greg Bradford and his band, The Flight, hit the stage with a different genre of music. His band had the most donations of canned goods and won the overall prize of a $100 from Moni's Seafood and Barbecue.
The last group to perform was The Uninvited Guests, which featured juniors Jordan Honore and Shawn Wright and senior Terren Craddock-Moore.
They got the crowd involved by their unique dance moves and special guest, senior Connor Bechard, who added a different element to some of the songs with his vocals.
The group rapped numerous songs, and even during a technical glitch, was able to improvise and entertain the audience.
For Honore, music has been a passion since a young age. The first musical group he was in was called The Hot Boys in fifth grade, and he has continued to invested his time in music during college.
To prepare for this show, Honore, Craddock-Moore and Wright planned the songs they were going to rap, but Honore also did something unusual he hasn't done in the past.
"My biggest fear for this concert was forgetting my words, so I only listened to my songs on repeat for the couple of days before the performance," Honore said. "It was strange for me to do this because I never listen to my own work."
The concert brought in around 130 cans to the Baldwin City Food Pantry.
Barnes said the concert was a great promotional opportunity for the station and gave promise for future opportunities, including a possible Baldwin City Breakdown Three.