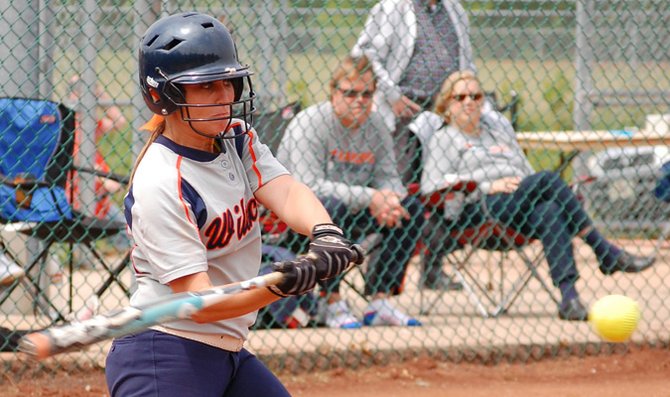 Sophomore Erin Greenwood was tough on opposing hitters throughout the regular season, and things did not change as she led the Baker University softball team through the first round of the Heart of America Athletic Conference tournament.
Greenwood was the winning pitcher of games two and three against Peru State College and helped the Wildcats advance to the double elimination round against Evangel University.
"(Losing game one) put a little bit of pressure on us because we knew we couldn't lose the next two games, but it really just made us want to play a lot harder," Greenwood said.
Games two and three were must-win games after Peru State edged out BU 5-4 in game one. The Wildcats jumped out to a 1-0 lead in the first inning after a solo home run from Greenwood, but the Bobcats answered with all five of their runs in the second inning.
Although Baker's rally fell short in game one, momentum carried over for the Wildcats' offense in game two. BU scored in each of the first three innings to earn a 5-1 lead before the game was delayed by rain in the fourth inning. The two teams were forced to resume play Saturday and the Wildcats went on to win by the same score of 5-1.
"I definitely think (the delay) helped," head coach Matt Windle said. "I'm not sure where we were mentally, but I don't think we came out as focused as we probably should have."
With the series tied 1-1, the winner of game three would advance to the HAAC tournament semifinals.
BU got RBIs from freshman Alyse Menghini and sophomore Kayla Morse in the first inning and Greenwood tossed a one-hitter to win 2-0.
Baker plays Evangel at 3 p.m. Friday at the Blue Valley Recreation Complex. BU swept Evangel in the regular season, and sophomore Tara Chumley is confident the Wildcats can defeat EU again.
"I think we have a lot of confidence going into the game because we swept them earlier in the season and last year we also lost to them during the playoffs," Chumley said. "I think that kind of left a bad taste in our mouths."
Baker will go on to play MidAmerica Nazarene University or Central Methodist University at 5 p.m. If the 'Cats win both of their games Friday, they will play at 2 p.m. Saturday. BU will play at noon Saturday if the team loses one of its two games Friday and will be eliminated if it drops both matchups.
"We feel we have just as good of a chance as anyone else in this tournament," Windle said.