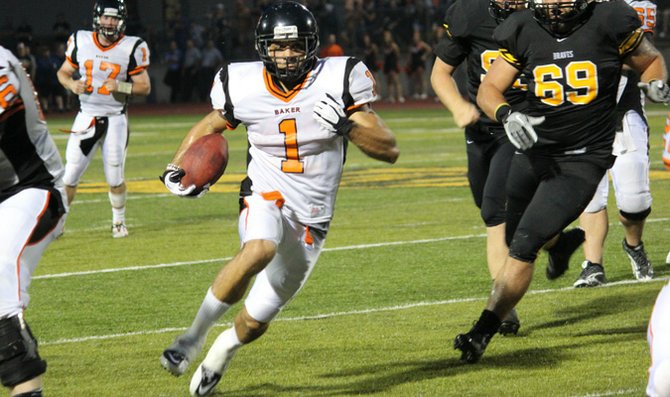 The No. 19 Baker University football team will play Avila University Saturday for its sixth straight conference game before two bye weeks, but the Wildcats will have to do so short-handed.
Sophomore Alen Troyer will get his second consecutive start in Saturday's homecoming game after head coach Mike Grossner announced Thursday that junior running back Dillon Baxter will not suit up against the Eagles.
"(Baxter) fell behind academically, so I'm having him take care of some academic stuff this week and concentrate on that before midterms," Grossner said.
The former University of Southern California running back parted ways with the Trojans football team to concentrate on his grades in October of 2011, and then transferred to San Diego State in November. His stay at SDSU lasted for six weeks before being dismissed by Aztecs head coach Rocky Long for "various reasons," according to ESPNLosAngeles.com. Baxter then signed with Baker in April and has 374 rushing yards and three touchdowns through six games.
Baxter has not been present at practice this week, but Grossner indicated that he will be back to play after the two off weeks if his grades are up to par.
"If he takes care of everything he needs to do before fall break academically, then we are good to go."
To go along with Baxter being out for Saturday's matchup against Avila, senior center Jordan Robertson will be unable to play after sustaining a knee injury in BU's 49-20 loss to No. 10 MidAmerica Nazarene University.
"We will utilize the two bye weeks to get him healthy," Grossner said. "He dislocated his knee cap, so we'll start (sophomore) Cale Nieder with his real first official start at center."
While Grossner is optimistic about what Nieder can do as the center, he acknowledged that the loss of Robertson affects the depth of the offensive line.
"If something else were to happen, you're talking guys moving multiple positions up front to fill in the blank, but we have a plan," Grossner said.
The Wildcats will also be without senior wide receiver Reggie Harris, who leads the team with 281 receiving yards. Harris will also be sidelined with a knee injury.
One player the Wildcats will still have available is junior quarterback Jake Morse. The 2011 Co-Offensive Player of the Year has made three consecutive starts since suffering a knee injury in the season opener, but in the last two matchups, he has been removed late in the game for senior Sam Vossen.
"To be fair to the quarterback situation ... we haven't, especially in the last couple of games, really had a good evaluation of who is playing better," Grossner said. "How we approach the game is to evaluate Jake and his knee and if his movement good. If his movement is not good and he is not able to do it all, then Sam is going to play."
Grossner said Morse has not shown any ill effects from the knee injury in practice and will be ready to take on the 1-4 Eagles, who won their first game of the season Saturday.
"(Avila is) a good football team. They come off a big victory at Bethany College. Bethany was a preseason top 25 team," Grossner said.
The Wildcats and Eagles will kick off at 2 p.m. Saturday at Liston Stadium.