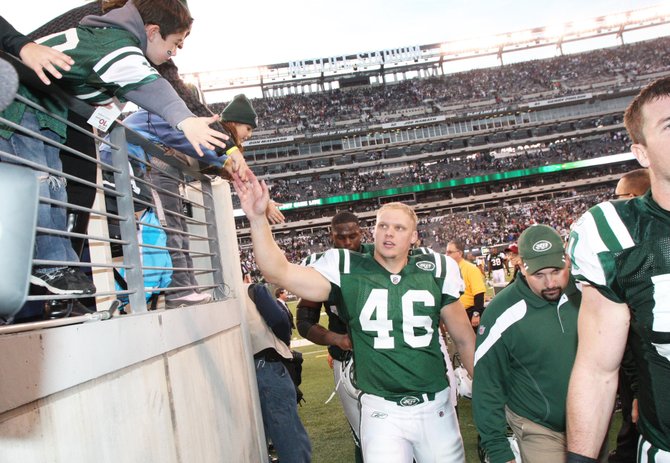 Wednesday, March 27, 2013
Former Baker University football player Tanner Purdum will prolong his career in the National Football League as the New York Jets long snapper after signing a two-year contract extension with a signing bonus on March 18.
"With the salary cap issue and everything being kind of tight around here, they were trying to figure out what to do with me and they let me take the free agent market first," Purdum said. "The whole time they said they kind of wanted me back, but they also had a money issue. They kind of settled and worked a few things out with some of the other guys Santonio (Holmes) and (Antonio) Cromartie and those guys and re-working their contracts. After that, we kind of settled on a deal there last week."
Purdum has played 55 games in his three seasons as the Jets' long snapper. In 488 career snaps, 275 have been on punts and 213 have come on field goals or point-after attempts. He has not had a single snap hit the turf before getting to the holder or punter and has not sent one high over the punter's head.
"The times I have seen him through the three years have been perfect," Mike Grossner, Baker University head football coach, said. "He is a perfectionist. He's got such a strong snap that on field goals, I do remember a story from one of the veteran NFL quarterbacks that was holding told him to kind of back off a little on the extra point and field goal situations to make it easier to catch."
Purdum was the long snapper for the Wildcats from 2003-2006 before graduating in May of 2007. After graduating, Purdum spent a year at Avila University as an assistant coach before returning to Baker to spend two years on Grossner's staff.
The former Wildcat said that spending time as a coach helped put him ahead of the learning curve to be an NFL long snapper and that playing in Grossner's system made going from the NAIA to the NFL a fluid transition.
"Coaching really helps just at the level you need to prepare for each game and the understanding for overall preparation for an opponent," Purdum said. "With playing, for me a big help was the fact that Coach Grossner brought in pro-style punting to where (the Jets) run the same thing in basic formation and concept as I did in college."
Coming out of college, Purdum weighed 215 pounds, so in order to pursue a professional career as a long snapper, he needed to put on some muscle.
"The number one thing he had to do was get bigger and he did that," Grossner said. "He got up to 270 pounds and now I think he is hovering around 260 or 255 pounds, so that was the first obstacle for him."
After going to numerous combines, pro days and camps, Purdum was picked up by the Kansas City Chiefs in April of 2009. Purdum ended up being wiaved four months later, but went on to sign a three-year rookie contract with the Jets in February of 2010.
"This was his next stage. In his profession and his position, that is a commitment from a team because the logical thing to do with a salary cap is in your fourth year, you are starting to make some really good money," Grossner said. "The easy thing for a team to do is to go get a young buck and do the rookie thing again and go find a younger that they won't have to pay as much, but then again, there is a risk involved there."
Purdum's success in the NFL has also served as an inspiration for fellow former Baker long snapper Caleb Johnson. Johnson was the Wildcats' long snapper from 2008-2011 and is currently attending an NFL combine in Phoenix, Ariz.
"Tanner was one of the big selling points for Grossner for recruiting me since he was trying to get into the NFL at that point," Johnson said. "Baker kind of breeds good long snappers and all that. (Purdum) coached me for about a year there and I picked up a lot of good stuff off of him. He has been inspirational for me because he showed me that people from Baker could get in (to the NFL)."
Purdum's accuracy on his snaps over the past three seasons has not been affected by the often cold and windy weather conditions in MetLife Stadium, where the Jets play their home games.
"I think his velocity helps overcome the weather that is there and the wind," Grossner said. "That is another thing that you don't even think about is that some guys grow up (playing) in a dome or for their career are able to snap in that kind of atmosphere. He has probably been tested more than anybody in his three years as far as elements and it is difficult."