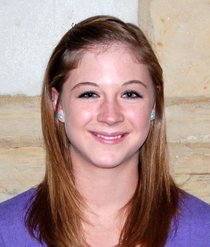 Katie Thurbon is a senior international studies and economics major from Topeka. She has served as a staff writer for the Baker Orange since 2011. In addition to working on the paper, Thurbon is also a member of the track and field team, where she has gained All-American status in the pole vault four times. Thurbon was also named Baker's first Capital One Academic All American. In the fall of 2013, Thurbon will be blogging for the Orange while studying abroad in Granada, Spain.
Recent Stories
With the appointment of Lori Thomas as the new commissioner of the Heart of America Athletics Conference, the HAAC will be the first conference within the NAIA to have a female commissioner in NAIA history.
Senior Reporter Katie Thurbon weighs in on the Supreme Court decision involving affirmative action at public universities.

The Harter Union is set to be fully open for Alumni Weekend on May 16-18, with a reception for the 50th anniversary alumni scheduled for May 17 in the newly renovated space in the eastern part of the union.
A recent bill aimed at erasing the line between genders has once again been rejected by the U.S. Senate, leaving politicians split along customary party lines.

With many state governments around the country discussing increasing minimum wages, Kansas has been slow to join the conversation.

interactive project
It has been associated with fraud, risk and anarchy, yet many questions still exist about what will come next for the new trend in currency, Bitcoin.

audio | video
Textbooks seem to be a necessary curse for most college students: necessary to pass the class, but a curse to the wallet when the time comes to buy them.
International studies and economics major Katie Thurbon provides perspective and background on the protests in Ukraine.

A bill commonly known as "Uncork Kansas" could allow convenience and grocery stores in Kansas to sell all types of liquor beginning July 1.

Faculty Senate approved a graphic design major on Feb. 18, and it now must pass through the Board of Trustees before officially being put in the books for the next academic year.
Images