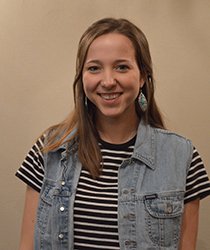 Taylor Shuck is a senior from Lawrence, majoring in Mass Media. After three years on the Orange staff, Taylor will be spending her final year with the Orange as the Editor. She is a parMentor for the university and recently finished an internship with Entercom as the promotions intern. She is interested in all aspects of media and multimedia and uses her Orange experiences to broaden her knowledge and to gain hands-on experience in the field.
Recent Stories
Last year, Faculty Senate decided to allow variable credit hours for interterm courses so students could choose which classes they wanted to take partly based on the hours required. But with recent credit-hour requirements designated by the Higher Learning Commission, interterm is changing in the way it functions for both students and faculty.

photo gallery
The official launch of RG Fiber was held outside Mabee Hall, with many Kansas leaders and dignitaries in attendance. RG Fiber was designed by a digital agency called the Reflective Group in an attempt to bring high speed internet to small town America.
Editor Taylor Shuck talks about how the Fight for $15 campaign, although a good idea in theory, is a threat to students with college degrees.

Students and young voters only made up about 19 percent of the 2008 electorate. Three Baker clubs are trying to increase that statistic.

Rehearsals for the University Community Choir have started as the group prepares for its first concert on Oct. 24.
Editor Taylor Shuck talks about the University of Kansas and its use of the term "non-consensual sex" in a rape case.

To start the 2014-15 school year, Baker University was faced with a pile of budget cuts that surprised faculty and staff.

After brain surgery, former Professor of Psychology Marc Carter has retired and Chair of Psychology Rand Ziegler will resume his old position as a professor

Editor Taylor Shuck talks about the hookup culture and how it has affected dating in college.

Although President Lynne Murray has been asked repeatedly what she hopes to do for Baker, she believes it will take conversations with faculty, staff and students to really understand the direction of the university.
Photos