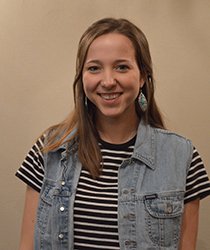 Taylor Shuck is a senior from Lawrence, majoring in mass media. After three years on the Orange staff, Taylor is spending her final year with the Orange as the editor. She is a parMentor for the university and recently finished an internship with Entercom as a promotions intern. She is interested in all aspects of media and multimedia and uses her Orange experiences to broaden her knowledge and to gain hands-on experience in the field.
Recent Stories
Editor Taylor Shuck and print editor Kayla Infanti recap the year and explain the lessons learned throughout their time as editors.
Editor Taylor Shuck denounces Apple CEO Tim Cook for his hypocritical slam on the Religious Restoration Act in Indiana.

Editor Taylor Shuck tells how it's not the destination but the journey that matters.

The Mine, a local bar in Baldwin City, is home to many in the community. From locals to students, many frequent the down-home bar.

photo gallery
President Lynne Murray focused on the university's economic sustainability in a changing educational environment during her State of the University address on Feb. 17 in Rice Auditorium.

video
Editor Taylor Shuck discusses Gov. Sam Brownback's recent executive order and the effect it will have on Kansas.

Twitter dubbed 2014 "The Year of the Selfie" after the word was mentioned on the social media outlet more than 92 million times in that year alone. Now more than ever, teens and young adults are engrossed in the art of a selfie.
Editor Taylor Shuck recounts her experience at President Obama's speech at the University of Kansas on Thursday.
In a city the size of Baldwin City, homelessness is more of a myth than a physical reality. But on Monday, one staff member is aiming to raise awareness of the issue with the Legendary Project.

Interterm is underway on the Baldwin City campus and students of all ages find different pros and cons attached with the opportunity, which is unique to Baker.
Images