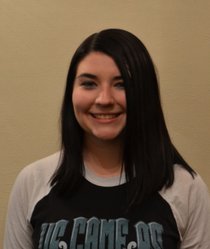 Tera Lyons is from Strasburg, Colo., and is a senior majoring in mass media with a minor in art history. This is her fourth year on the Baker Orange staff, and she is currently the print editor. Lyons is also a member of Zeta Tau Alpha sorority, the president of Cardinal Key Honor society, a member of Order of Omega, and a university admissions assistant. In the previous two years, Lyons has been the Orange's design editor. During the summer, Lyons works for Camp Lindenmere as a camp counselor teaching digital photography.
Recent Stories

The journey for a college football player to become a pro is usually challenging, but three former Baker University players have accepted that challenge.
Print Editor Tera Lyons shares her thoughts on internships and her Baker experience.

photo gallery
Print Editor Tera Lyons describes the Westboro Baptist Church's protest on Easter Sunday in Baldwin City.

photo gallery
The fourth-ranked Baker University football team fell to No. 5 Morningside College during the second round of the NAIA national championship playoffs 36-28.

Cellphones have become a universal tool, but many Baker University professors find them too distracting in the classroom. To combat the disturbance, some faculty members are making policies for their courses.

The beginning of the Baker University football season not only brings the rivalry game against Ottawa University, but the annual non-perishable food drive, Tackling Hunger.
Print Editor Tera Lyons discusses Miley Cyrus' behavior at the MTV Video Music Awards.
Harlaxton College was simply put, the best experience of my life and I couldn't imagine what my life would be without it. It opened my eyes to the world, it forced me to make my own plans and be more independent, and most of all it provided me the chance to see friends that I would normally only see in the summer.

Margaret Thatcher left her mark on Baker University through her presence at the rededication ceremony of Osborne Chapel in 1996, a chapel where her father had preached in Sproxton, England.
Harlaxton is more than just travelling and having an experience abroad. This semester has put me through the toughest course work thus far in my college career. The first thing we were told was that this was described as "education on steroids," and a truer statement was never spoken.
Images